Cancer Centre Appeal
Last year in Milton Keynes more than 4,000 people were told the devastating news they had cancer.
Milton Keynes is one of the fastest growing areas in the country – our population stands at 300,000 and is forecast to increase by another 19.3% by 2026 – and at the current locations on site, cancer services at Milton Keynes University Hospital are stretched to capacity with a cramped waiting room and at times long waits to be seen.
Over the past five years the cancer team at Milton Keynes University Hospital have worked tirelessly to improve the services available in the existing facility. But even with these improvements, Milton Keynes cancer patients still have to travel to Northampton, Bedford or Oxford to access some of their treatments.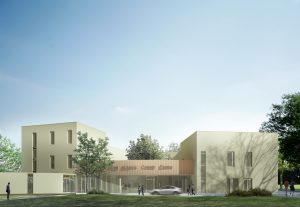 At the heart of all this is the extra pressure placed on the patient and their family during an already anxious and stressful time, resulting in lengthy journeys and disjointed care away from their local area.
A new cancer centre means the hospital can better support each and every cancer patient. We'll be able to provide most of the cancer services they need in an excellent environment close to their homes catering for our patients and their families, too.
The new Milton Keynes Cancer Centre will be a dedicated space offering treatment and a wide range of information and support services to anyone affected by cancer, all within a comfortable and welcoming environment.
Importantly, the new cancer centre will bring together most treatments under one roof – where currently cancer care is provided in three different locations on the hospital site.
This is huge news for cancer care in our area, which will mean:
New outpatient consultation rooms, procedure rooms and a specialist room to extract bone marrow
A new 24 bed inpatient ward
16 single en-suite rooms within the ward
2 two bed bays, and a four bed assessment bay
Provision of a new Macmillan information and wellbeing centre
Support services that will include holistic support and therapy treatment rooms
Quiet rooms and family visiting rooms
Increased capacity and staffing to reduce waiting times for patients that will improve patient experience
A spacious and uplifting environment, that will enhance the care and support that is given with beautiful landscaped gardens for patients and families to spend time in and new artwork in public areas and treatment rooms.
The centre will cost £15m to build. Milton Keynes Council has already made a commitment of £10m, £2m has been pledged by Macmillan Cancer Support and the hospital itself has made a commitment from reserves. We now need to raise the final £2.5m.
This will not replace NHS funding but will be used to provide supporting facilities and ensure this is a centre worthy of the people of Milton Keynes.
We are embarking on a journey to change cancer care for the better, by expanding our services to reflect the growing population we serve – and we'd love you to be a part of it.
For more information please contact fundraising@mkuh.nhs.uk.